THE TEAM
We all love yarn as much as you do!
Meredith
Meredith enjoys small, simple projects that move quickly on and off her needles. You may notice her favorite pinks or grays incorporated into hats, cowls or shawls. Meredith loves working with wool and often holds another fiber alongside it for extra softness. She is not afraid of a little "un-knitting" or "tinking" to fix a problem and views this as extra practice! Meredith learned to knit when she volunteered in the after school knitting club organized by Sue at their kids' elementary school. We all love her helpful attitude and positive encouragement.
Connie
Most of Connie's career was spent working as an RN. She's an avid reader, Griz fan, grandkid sports cheerleader, and enjoys British and Australian tv dramas. Connie grew up in Butte and we love her story about learning to knit: "When I was 10 years old my friend Carol and I were allowed to take the bus from the 'flats' in Butte and go all the way to Hennessy's Department Store in Uptown - quite an adventure for two young girls in the 1960's. Our teacher, Joan, was a very sweet English lady. Classes were held in the mezzanine, which was also the home of the BOOK DEPARTMENT! We would knit until noon; we went to Gamers to have lunch, then wander in and out of shops til 3:30 when it was time to hop on the bus and head home."
Susan
Many will recognize Susan because of the beautiful jewelry and paper art that she's been creating since 2008 (susangart). That passion has expanded to knitting and we all benefit from it! Susan has enjoyed teaching bead embroidery and jewelry making to adults and kids through Yellowstone Art Museum and Summer Art Academy. She's taught several embroidery classes here at the shop, and enjoys a knitting challenge ("mistakes help the learning!"). Her love for color and texture, positive outlook and cheery personality, plus her desire to encourage everyone make her a welcome part of Team Yarn Bar!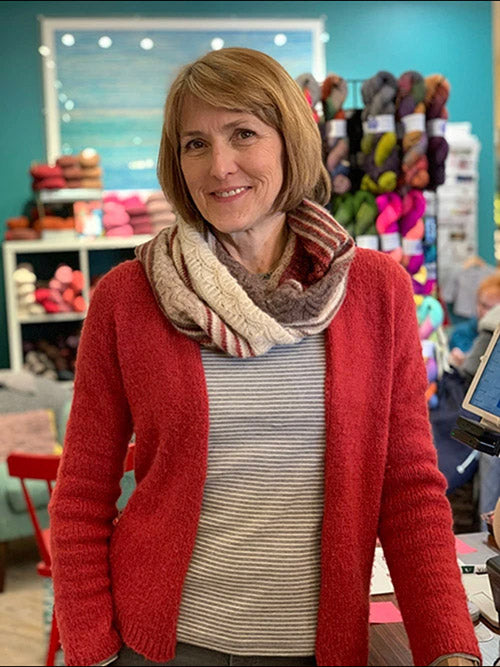 Becky
Becky has taught knitters in the Billings area for the past 14 years. Many of you will recognize her as the former owner of Billings Gymnastics School and know that she is comfortable teaching all types of learners.